Thanksgiving Point - 2001
It was a great day on October 6th at Thanksgiving Point in Lehi, Utah. About 30 fruits showed up with their growers in tow. Or was it...? THREE state records fell at this event! I'm sorry I didn't get photos of everyone and everything. Everyone I met this day, I was meeting them for the first time.

Look for comments below each picture.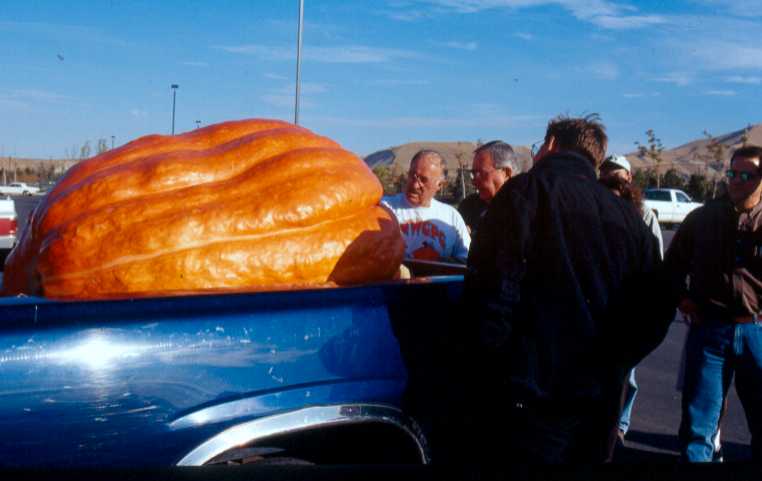 A crowd gathered quickly when Brian Christensen of Rexburg, Idaho drove up with this beautiful monster. In fact, he passed me with it on the freeway and I nearly lost control. The color on this pumpkin is "Electric Orange Metallic". (No, I don't think he painted it, but it was close.)
---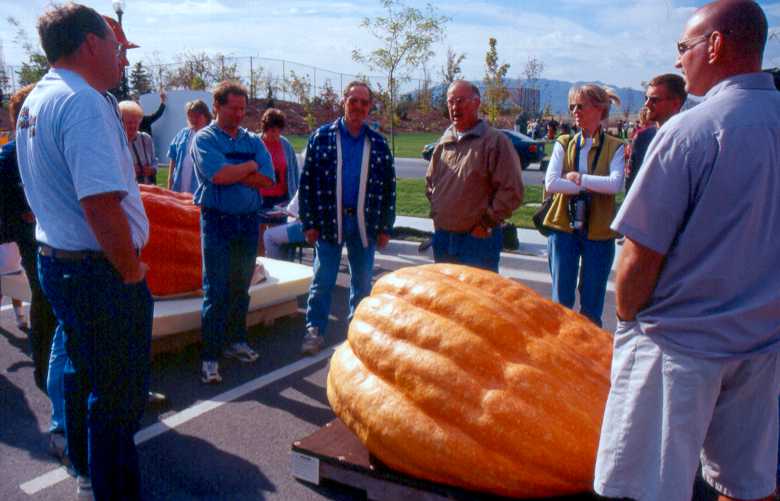 Some growers standing around Bruce Orchard's pumpkin.
---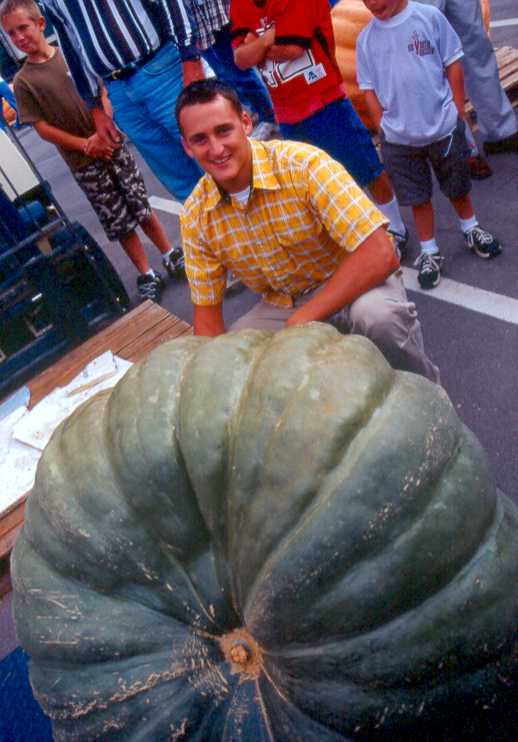 Ryan Card shows off a true squash. If you're going to grow squash, this is the way to do it. It weighed in at 406.5.
---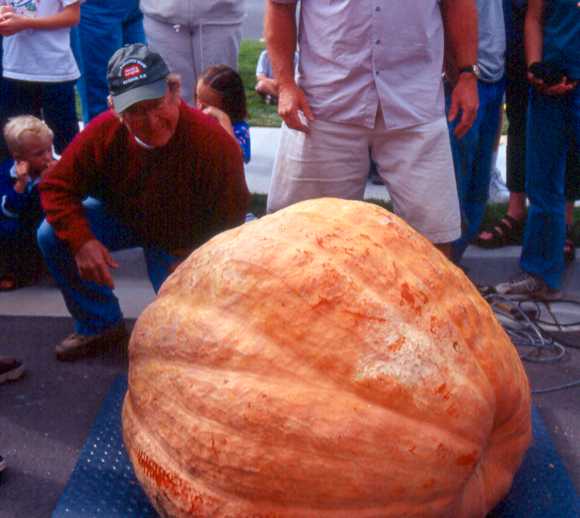 Ray Agutter with his 406.5 pound pumpkin.
---
Kevin Card with this nicely shaped and deeply ribbed "bird bath" pumpkin. Check out that grower's hat! People are going to ask where you got that!
---
Ron Hoffman bettered the Wyoming state record with this pumpkin at 549.0 pounds. On the same day however, Roy Birt of Wheatland, WY also beat the existing record with a 601 at another weighoff.
---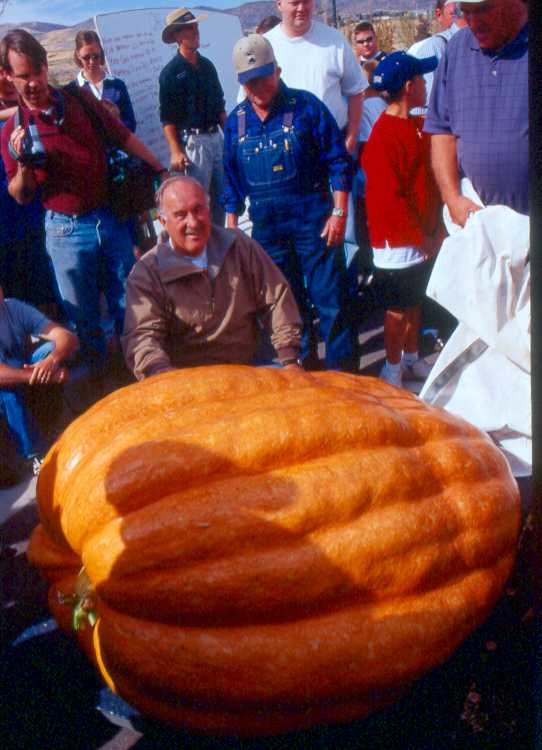 Bruce Orchard then stepped up to the scales with this 777.5 pound pumpkin and walked away with the Utah state record. Nice color on this one as well.
---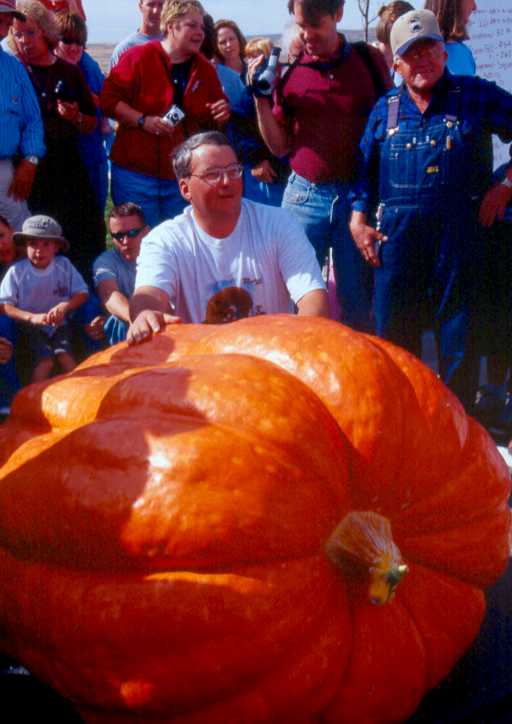 In the end, the day belonged to Brian Christensen with this 847.5 pounder that broke his own Idaho record. I wish this scan could do justice to the glossy finish on this pumpkin. The color is a very true orange, not yellow and not red.
---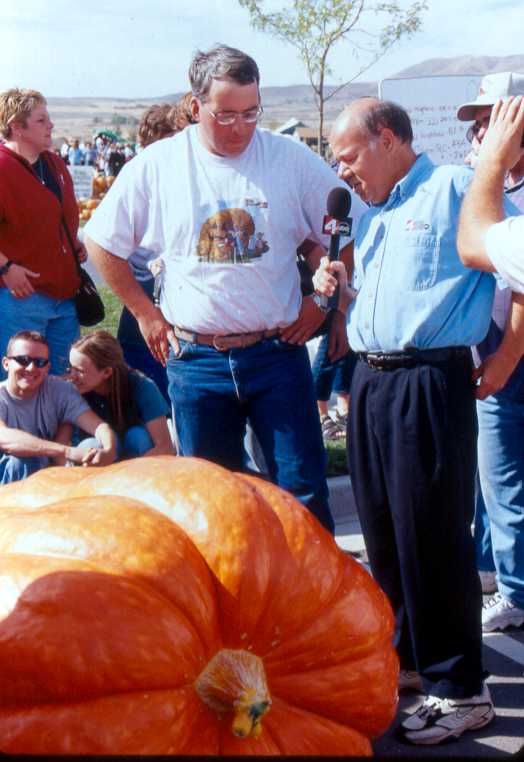 Brian got the interview. Brian's wife got the new (used) car.
---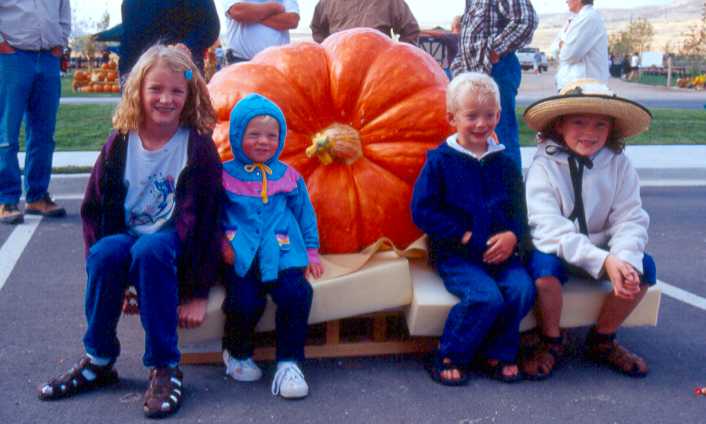 My (Cliff Warren's) kids with Bulbasaur, Brian's pumpkin. They weren't as enthused about posing with my pumpkin.
---