Cliff's Grower Log -- June 2004
---
June 2
Sorry to not lead with a picture. I have tons of pictures, just no time to actually arrange them and get them online. Always too busy.
I looked back at this time last year, and I see that I'm about the same pace as last year with the 1005 Mombert and 576 Michalec. That is pretty good considering the cold weather we've had. The weather is finally turning to the warm side. We could have our first 90 on Friday.
Only one hickup... the 1005 Mombert looks like it MIGHT develop a double vine. Ah, it looks like a ribbon vine near the base, but it is beginning to look normal past the next leaf node. Kind of funny, but the backup to this plant is my own 255 from last year. It's doing great. But my heart is in using the proven 1005 from Mr. Mombert... but fortunately I have a good backup in case the 1005 turns into a double vine.
I'm considering outfitting each of the four select plants with soaker hoses. This is something I should have done sooner.
---
June 3
Got the soaker hoses installed yesterday. We're officially hot, 86 degrees today. At this point I start looking at the long range forecast. We're supposed to cool down again Sunday and have wind into next week. After that episode, I'll check again and try to decide when to take the hoophouses down.
The plants are doing well, except that I'm a little concerned by some leaf burn, particularly on the 1005 Mombert.
Pictures coming tomorrow, I promise.
---
June 4
Still no pictures? I have a good reason, or maybe a bad one, depending on how you think of it...
The Storm
This was perhaps the most violent and lengthy wind storm that I can remember in my 14 years in Pocatello. (And THAT is saying something!) Last year we had a microburst that had 70mph winds and lasted about 5 minutes. This "microburst" had winds at least that strong and lasted for an hour and a half!
Hoophouse #2, the original one with defective plastic, was gone in the first 10 minutes. By the end of the storm there was almost no plastic left. The worst part is that the 867 Mombert got "wrenched" around in the wind. It LOOKS ok, right now, but I'm worried that the twisting motions it suffered have ripped up the roots below the surface. I'll just have to see how it does during the next few days. Right now the bones of this hoophouse are encased in my windfence from last year. I will not rebuild, as the 867 is leaning in the wrong direction anyway.
Domehouse #1 (576 Michalec) has about one-sixth of the plastic torn away... it has good ventilation now. Think of it as a hexagon with one section gone. The wind kept changing directions...
Domehouse #2 simply didn't have enough weight around the base of the plastic. (When I say enough, well, it certainly IS enough for most circumstances...) But the plastic stayed in one piece and I was able to rebuild.
Hoophouse #1, the one that I already rebuilt once, had it's rear section pull up and start flapping in the wind. I was out there and stood on the plastic for about 20 minutes, while all the time raindrops would sting as they pounded my generous forehead. But we survived, hoophouse #1 is also rebuilt.
So there you have it, just another evening in Po-dunk Idaho. By the time I was done with everything it was 9:30pm, and I was way too dirty and tired to think about taking pictures. Someone remind me why I do this crazy hobby???
---
June 7
The last few days have been spectacular. This is why I do this.
The plants, are a mixed lot. Here are the four survivors, with comments on each:
1005 Mombert on June 5
My best plant. Some leaf burn. I had intended it to run west, but it has veered to the south. This is not a problem. It also had been looking like it might double vine, but it has now developed a healthy, single main.
867 Mombert on June 5
Still very small. I intended it to run west, but it has decided to go to the south-east. I don't mind. I really want a super orange one from this plant, and will sacrifice anything else to get it.
576 Michalec on June 5
This one is also a great plant. I wanted it to go east, but it is heading north, right through the opening created by the huge storm a few days ago. I'm looking forward to my first giant squash.
691 Michalec on June 5
This one is a week younger, but I would have hoped for something larger at this point. Some leaf burn as you can see. It's too soon to know which way it will run, but right now it doesn't matter.
---
June 10
The 1005 Mombert and 576 Michalec plants are turning into monsters! Well, they're good, anyway. Very soon, within a couple of days, these will be out of their hoophouses and facing the wind. So far I have been unable to find any straw or hay bales like I used last year. This is essential. Without them I will loose most of the leaves I have now on these great plants.
We're also going through our typical June cold spell. It is supposed to be 35 degrees Saturday morning! But I hope when this current cool down is over we will finally settle into a summer pattern.
---
June 14
Again, the 1005 and 576 are doing very well. They should be ready for pollination on time. Three other plants are still in the running, the 867 Mombert, the 978.6 Berard, and the 691 Michalec. Each of these is healthy, but slow to grow. They need to get going soon if they stand a chance of setting fruit in the first week of July. We are FINALLY going to warm up this week, so that should help.
---
June 15
Measuring is so much fun. I'm going to measure the main vines on each plant, each week for three weeks in a row. After that, pollination season starts. Data from June 14:
| | | |
| --- | --- | --- |
| 1005 Mombert | 5.5 feet | |
| 576 Michalec | 4.5 feet | |
| 691 Michalec | just under 3 feet | |
| 867 Mombert | a little over 2 feet | |
| 978.6 Berard | maybe will be a "bush" plant | |
The top two are looking good for an "on-time" pollination. The 691 has seemed to hit a growth spurt, and Chris Michalec mentioned that it could be slow starter. Maybe it's now beginning to move. I'm a little worried for the bottom two. The 867 Mombert is already looking a little beat up from all the wind, and the Berard is going nowhere fast.
A word on the 1005: What a monster! I think this is the most aggressive plant I've had in four years of doing this.
If I could only keep the wind from wacking this plant when I take the hoophouse down!
The 1005 is throwing out secondaries all over the place. Each secondary is so aggressive, it follows the same path towards the front of the plan along the main vine, and is already nearly the same length as the main. I'm tempted to avoid pruning at this point, and see what nature does to me in it's own pruning.
---
June 21
The 1005 is the best plant I've ever had up to this point. It's really incredible.
Right now I'm doing daily battles with wind. The hoophouse around the 1005 officially came down this morning. This last week was another one of very "mixed" weather, with evening storms with rain and wind. Last night the lows were in the low 40's! Ah, gotta love it...
This week the weather is supposed to be better. I said that last week.
Back tomorrow with pictures and some surprises. Stay tuned.
---
June 22
Here is the 1005 Mombert on June 22, now firmly guarded by my new garden gnome:
The gnome helps fight off gophers...Guidry and Thibedeaux beware!
This plant, wow. I have not pruned, and it shows. Vines are coming out from everywhere. This may help me for a while... I'm going to hold off on pruning and see if it helps me against the wind. The main vine is now at 8.5 feet, 3 feet longer than one week ago. And, that growth happened in generally bad weather.
Here is the 691 Michalec: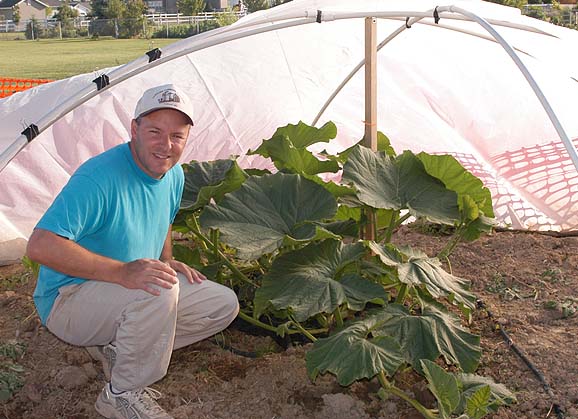 Yours truly with the enormous leaves on the 691
This is a completely different plant. Huge leaves, but not much vine yet. It is starting to pick up the pace, however. The main vine is slender, but has also added about 3 feet in the last week. Notice that my "dome" shaped hoophouses have become "half-domes" now, and they make terrific wind breaks. These domes have turned out great!
Not to be forgotten are the 576 Michalec squash, which also added 3 feet to it's main vine. The 867 Mombert and 978.6 Berard are also begining to grow... but they are behind and I'm worried about getting a pollination on these in the first week of July.
---
June 25
Dear Diary:
So far, so good, at least with the 1005 Mombert. Had the first male flower open this morning.
All the hoophouses are down. We even had a brief windstorm yesterday evening but no damage was done. The wind fence helps. The 1005 is so thick that it may actually avoid some of the wind we get. The 576 and 691 Michalecs are doing well, a little thin compared to the 1005 but should be at the size to pollinate within the first part of July. The two color plants, the 867 Mombert and 978.6 Berard are just sitting around. They're growing, but very slowly. I've always wanted a really nice orange color in my patch, but every year the orange plants don't seem to do as well.
I could look at things differently... in each of the three years that I've been growing in this location, the best plant has come in the same spot, and the worst plant has come in the same spot (generally). I don't know what could possibly be different with the soil there, however.
Going to mix up some seaweed in the Dial 'N Spray and hit 'em real good this evening. Until next time...
---
June 28
Went to the end of nearly every significant vine in the patch on Saturday and found a tiny female hidden in the bundle of stuff growing at the end. These are probably 10 days out, but it should make for an exciting few days when they finally arrive. The one on the main of the 1005 is 10 or 11 feet out... not great but much better than I've had in years past.
We've had warm sunny days giving way to stormy, windy evenings. This is nice to help our water situation and human comfort level, but I'm not sure what it's doing to the plants. All in all, it's shaping up to be a pretty good year if things keep going........ ah, I can't wait 'til pollination time!
---
PumpkinZone!