Cliff's Grower Log -- August 2002
---
August 5
This morning the fruit that I've been following closely on the 831 was at 61-42.5-44 = 147.5 or 74 pounds on day 22. It has slowed down a bit. I've had a lot of wind, and a lot of cooler, cloudy days. I've been away for a while, and the patch is full of weeds. But finally I have a few weeks in a row where I'm not going anywhere.
I also need to start tracking a fruit on the 995's main. Its coming on strong, and may pass the 831. On each of these I got a late start as usual. They need to start packing on the pounds, now.
---
August 6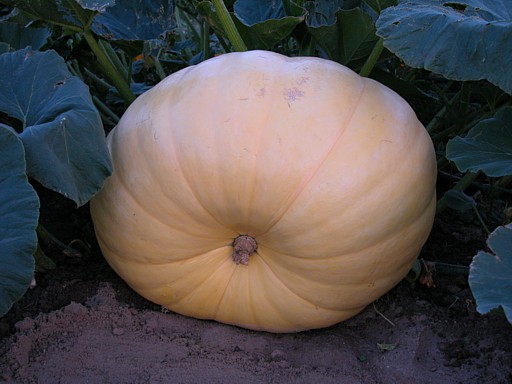 Freeze on Aug. 6th
Freeze has slowed down a bit. Only 7 pounds gained over the last 24 hours. Its now at 64-46-42.5. I've got to do better than that. I think the wind has taken its toll on my leaves. This is day 23.
On the 995 main is one that is 59-41-42 at about day 24. I had been following one on the rear main that was only 4 lobes. It seems to be growing a lot more in the upper lobes than in the lower, and so it is imbalanced, and has slowed way down.
Last evening I noticed that one of my sprinklers became "stuck" right over Freeze and the main vine that it is on. It got a good drenching. Will this be good or bad? We shall see.
---
August 7
Ah, pumpkin induced depression. Happens each year (of the last three) at this time. Its brought about by the realization that your big orange hope is gaining only X pounds a day and you need at least Y to meet your goal. In this case I'm gaining about 7.5 pounds a day and need to be doing about 12 to get to 500. Or, I'd need to put on about 9 per day to get to 400. Nine might not seem like a lot to many growers, but its more than I've ever been able to do.
Random Theories: One: My high pH soil, which tested at 7.8. Two: generally cold nights, last night was 48, and this Friday morning is predicted to be below 40. Three: Slow starts, missing the power curve of late June. This is going to be addressed next year with cloches.
By the way, last year our first frost was September 8th. This, unfortunately is about average. My estimates above are based on growing until Sept. 11.... Hmmm... why did I pick that date? I was just looking at a day 5 weeks from now... not really thinking about "September Eleventh".
---
August 8
Well, over the last 24 hours I have managed to put on 12 pounds! But yesterday I fertilzed twice, both morning and evening. Hmmm... I need to look into some high potassium fertilizer.
While I did stretch to reach 12, I like to look at the 3-day average which helps take measurement error out of the equation. Of course, I need to average 12, not just hit it once in a while.
Yesterday I had the chance to visit a first time grower who I gave seeds from my 240 last year. She's well on her way to beating that! She also has a large stand of corn which blocks the prevailing wind and her leaves are not all torn up like mine. They also have cows and horses, so each spring the garden gets a dose of the good stuff. But she hasn't given these any special treatment, and she's nearly matched me to this point.
---
August 12
Here are some new pics from August 11: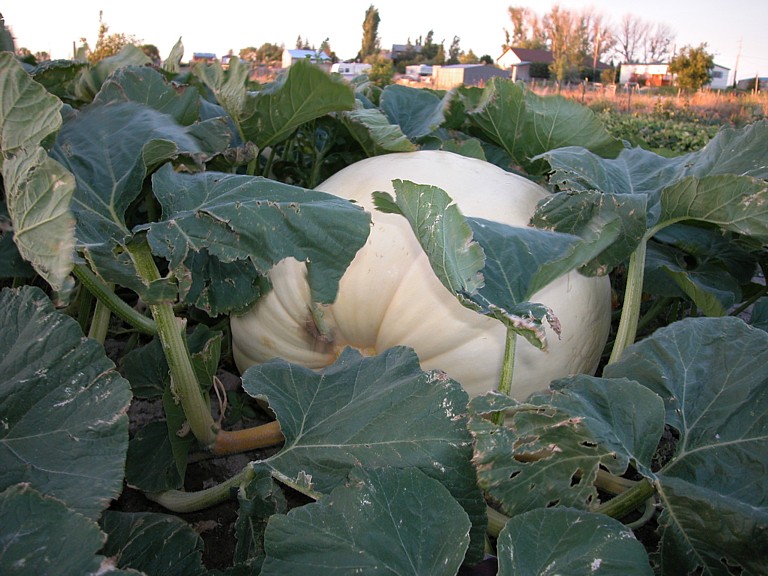 This is on the main of the 995 Carter. Pollinated 7/13 by the 842 Mitchell, its now at 73-48-51 (113 lbs.). You can see the leaves fluttering in the wind, with my 1/30 second shutter speed.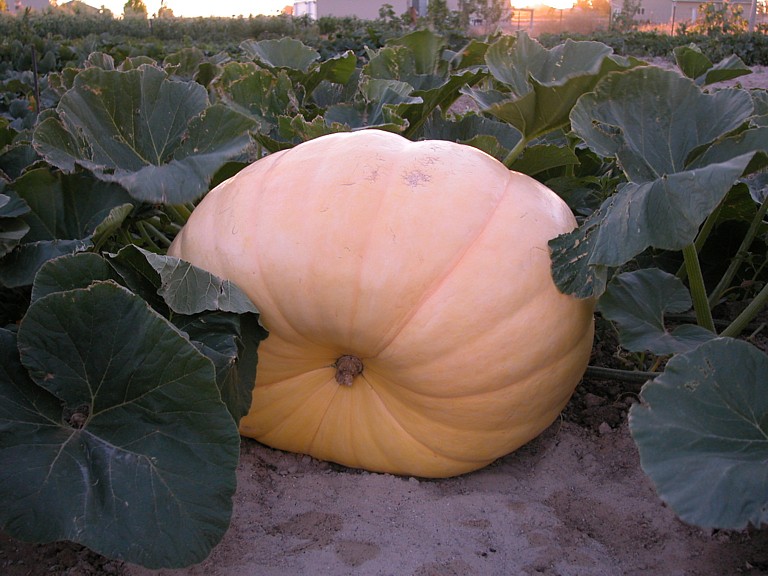 And here's another of Freeze. Pollinated 7/14 by the 995 Carter, its now at 78-57-50.5 (139 lbs.). It has averaged over 10 pounds a day over the last 5 days, and frankly, the weather hasn't been that good.
August 13
A visitor to the site mentioned that I should cut these leaves, as they will scar the pumpkin over time. Actually, I have some old sheets that remain on the pumpkin most of the time. This protects the skin from abrasions and sun. Its so simple, I'm surprized that more don't use it. Or, am I wrong? (It's been known to happen.) Comments?
---
August 19
This morning's low was 41. This reminds me that we're within 3 weeks of last years first freeze, September 8. Right now, "Freeze" is at 89-63.5-56, for 192 estimated pounds. This is sort of depressing, but I looked at last years numbers, and see that at this time last year I was below 140, and I still made it to nearly 300 est., although it weighed light at 252.
Its been a little chilly, and a lot windy over the last few days. Friday we were pounded with 40 mph winds all day long. We haven't had rain... perhaps all summer. In a typical year we get a lot of afternoon thunderstorms that originate in Arizona, come up through Utah and Nevada, and hit us here is south-east Idaho. We also usually don't get too much wind in the late summer. This year, its more wind and no rain. I like the rain, because rain water seems to do more for all my growing things than irrigation water.
I've noticed that in areas where my curcubits are dense, such as in the patch of late arrivals (volunteers), the density of the foliage prevents overall wind damage. On the other hand, where my plants have a lot of room, such as in the main patch and around the Zunino plant in particular, the wind has battered these plants to near death. I don't have the will to photograph them. I'm surprized that Freeze is still doing pretty well, because the plant was so small to begin with, and what was there is pretty torn up. The main vine still looks OK, but that's about all.
---
August 21
This morning Freeze is at 210 est. and the Carter is 192. Not much else to report. Freeze is turning orange, while all the fruits on the Carter are the pale yellow color. This is a little disappointing, because I was hoping for more orange from it. I know, its an unproven seed, even with respect to color.
Freeze continues its relentless march at 8 to 9 pounds per day.
---
August 22
Freeze, this morning: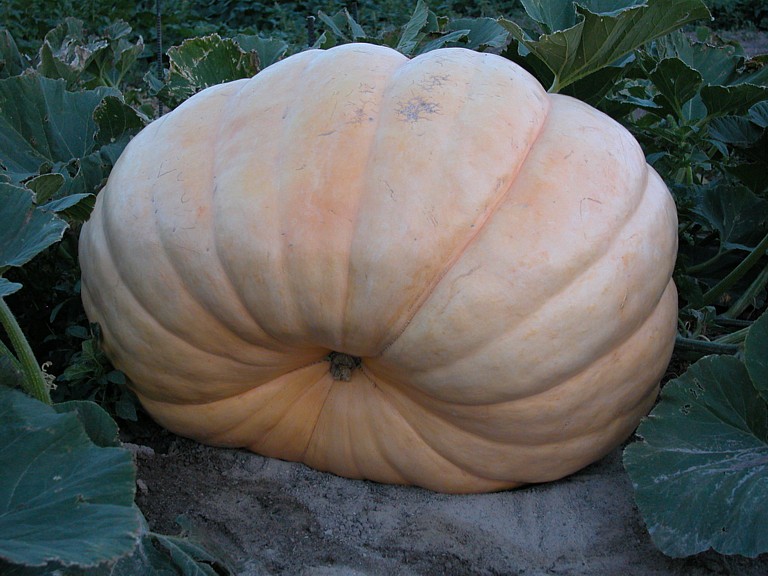 Here is a shot from a certified pumpkin nut, standing in the patch at 11:00pm under a full moon. "It's the Great Pumpkin, Charlie Brown!" The only light source was the moon. In the foreground is the big one on the Carter, followed by another on the Carter and Freeze is third, in the distance. These pumpkins aren't nearly this orange in the daylight: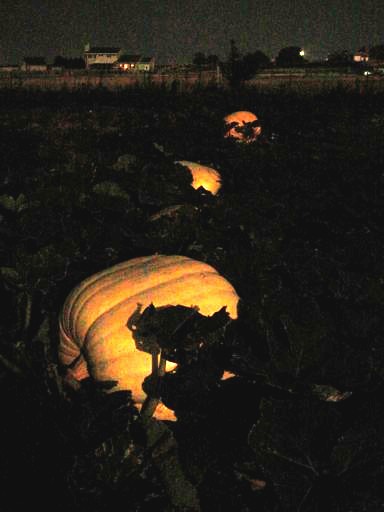 ---
August 23
Freeze measured out at 235 estimated pounds this morning. I'll be gone for the first three days of next week. When I get back, time permitting, I'll probably take the Carter to the Eastern Idaho State Fair.
Freeze has one rib that worries me. I think you can see it in the picture. Then again, its not growing that fast by AG standards, so it will probably be OK. If I can keep the current pace up until mid-September, I could hit 400. That's a really big "IF", but that's what keeps me going.
---
August 29
Back from my trip to San Jose. Lots to catch up...
Freeze is now estimated at 295. Best of all, its been putting on 10 pounds a day while I've been gone. If I can keep this up for another week and a half, 400 just might be possible!
Cliff visits Vince - Since my employer was sending me to Silicon Valley, I thought to look up Vince Zunino whose seeds I'm growing this year. I was totally impressed by his amazing patch. Some of you might think that Vince exaggerates a bit in his communications to the list and on the web. I'm here to tell ya, he doesn't.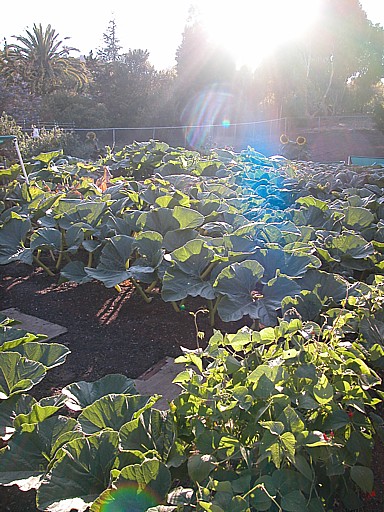 Vince truly has celestial enery raining down on his patch.
The leaves on his plants were enormous! And most of them were nearly three feet high. I thought my plants were big. This was my first visit to a serious grower, and I came away with a new vision and greater inspiration.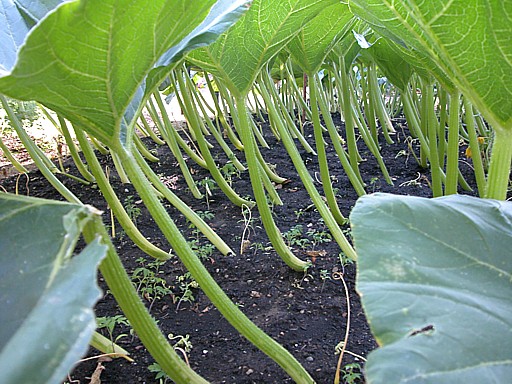 An immaculately tended patch, with truly enormous leaves.
I want to thank Vince for the visit. We talked for quite a while, and I'm sure we could have talked all night if we had the chance. So, what does Vince have in the patch this year? I'm not telling, but it kind of reminds me of a Volkswagen New Beetle. I wonder if its too late to put a bet in on the California 1000 pounder?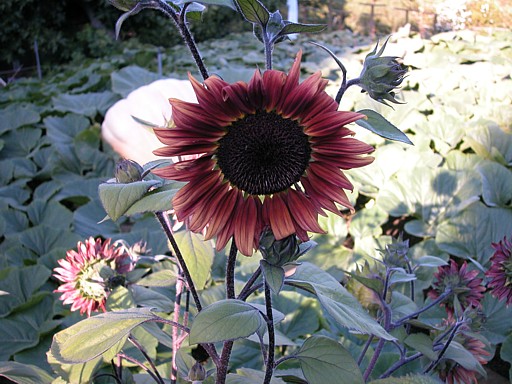 I'm not telling everything I know...
---
August 30
Last night I cut the Carter and loaded it up to the Eastern Idaho State Fair. Its about 250 pounds. Brian brought one about 420 and Harold brought one more than 300. This is something new to the fair organizers, and they're not quite sure what to do with them.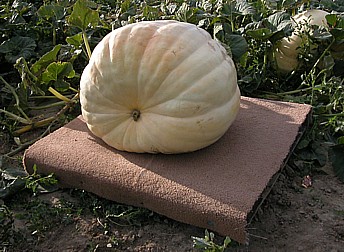 The Carter had awesome shape but not great orange color...
This is the new pumpkin transport vehicle. Its got the space to grow into... should I ever need it.
---
PumpkinZone!